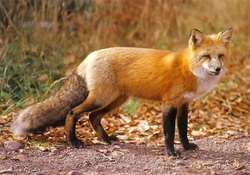 Red foxes can be seen around the world in many different environments including forests, prairies, mountains, and even in deserts. Red Fox sightings occur throughout the United States, and that distinctive flash of red fur always quickens the breath with excitement. A fox is a cunning and resourceful animal that adapts well to living near humans, and can be found throughout the Chesapeake Bay region of Virginia. This beautiful vulpine is the most widespread meat eating mammal in the world, but the vast majority of people have never seen this crafty animal in the wild.
Equally at home hunting rabbits and scrounging through garbage cans, Red Foxes are omnivores which are able to thrive near humans by easily adapting to take advantage of any opportunity to find food. Their diet can be as varied as their range. Foxes will eat fruit and vegetables, fish, frogs, and even bugs. When near humans, foxes will often dine on garbage and any pet food that is left outside overnight. However, being typically shy and fearful of man- these clever animals can often live right in your neighborhood and for the most part go entirely unnoticed. The exception to this rule is generally during the summer, when rambunctious pups start to vocalize and begin to wander from the den.
Red Foxes mate in the winter, and the vixen typically gives birth to a small litter of kits in early spring. Kits are born blind, and are typically brown or dark gray at birth. A pup's red coat usually grows in by the end of the first month, but some red fox varieties are golden, reddish-brown, silver, or even black. Both parents will typically care for their young through the summer. The kits will remain at the den until fall, when they will normally strike out on their own.
While these cute creatures often appear to be catlike because of their graceful movements and large fuzzy tails, they are actually related to wolves and coyotes. Like their cousins, these wild animals should always be appreciated at a distance, and humans should not approach them or try to feed them.
If you are vacationing in Williamsburg this summer, keep your eyes open and you just might catch a glimpse of a family of foxes sneaking past!