The Florida Timeshare Owners Group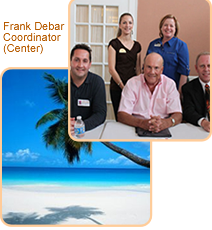 FTOG Members click HERE.
Click HERE for Important Information and Resources Every Timeshare Owner Should Know!
T
he Florida Timeshare Owners Group was formed in the Fall of 2004, when a small group of timeshare owners agreed to meet for the purpose of organizing themselves, in order to share timeshare information and experiences with each other. The FTOG is run by Frank Debar, and has now gained the reputation as the fastest growing timeshare owners group in the USA, and meetings now feature the very best speakers and experts in the timeshare industry. Meetings are scheduled every March, July, and November. Membership is open to year-round and seasonal residents of Florida, as well as to all out-of state residents who own timeshare property located in Florida.
Invited Guest Speakers attend each meeting, and address the various issues of interest and concern to the typical timeshare owner. A question-and-answer period follows each Guest Speaker. In addition, the various timeshare exchange companies, as well as the established timeshare industry organizations and the media, have all continued, over the years, to show a willingness to attend our meetings, and share their information and advice for the benefit of our Group's members. A "Member's General Discussion" is conducted at each meeting also, whereby up to three pre-selected Members present their topics of interest or concern to the Group, for the purposes of round-table dialogue and input among the membership.
If you would be interested in meeting other timeshare owners, learn how to enhance your timeshare ownership property, and share your experiences and knowledge, then you should consider joining the Florida Timeshare Owners Group. Membership in the Group allows for participation in our Internal Rental/Exchange/ Purchase/Sales Program, whereby there are absolutely no exchange fees, or rental/sales charges involved. Each Member receives a copy of our Members Resort Directory, listing our member's Resorts available for rent, sale, or exchange.
Meetings always reach full capacity so advance seating reservations are required for all wishing to attend any of the Group's scheduled meetings. Non-members may attend only one meeting, as such, and only if seating is available, and advance reservations are obtained. Non-members are subject to a $10.00 per-person door charge, payable in advance. Members of the press may also request a reservation.
Notable guest speakers have included:
Shep Altshuler Publisher, TimeSharing Today Magazine
Brian Rogers, Administrator, Timeshare Users Group. (TUG)
Rich Marquette, Owner, Vacation-Times.org
Rich Muller, Sr. Vice Pres. Vacation Resorts Int'l. (VRI)
Andrew Spark, Asst. Atty. General, State of Florida.
Scott MacGregor, CFO, InnSeasons Resorts
Woody Cary, Pres. & CEO, Tricom Management
Ken McKelvey, Pres., ARDA-ROC
Darla Zanini, Exec. V.P., ARDA International Foundation
Howard Nusbaum, American Resort Development Assn., (ARDA), President
Jay Wilson, Interval Internationall, VP
Lisa Ann Schreier, Timeshare Insights, Director, & Founder
Jan Samson, Vacation Resorts Int'l., SR. VP
Annette Aviles, Interval Int'l., Regional Mgr.
Alex Fogel, Vacation Resorts Int'l, SR. VP
Rodney Miller, RCI. Regional Mgr.
Tom Tubbs, Island Consulting, Pres., & Owner
Keith Stephenson, (ARDA), Director, State Govt. Affairs
Scott Riddle, Trading Time, President
Karen Donohue, Trading Places International. Operations Mgr.
Sarah Goodwin, Platinum Interchange
Bill Armbruster, SPM Resorts, SR. VP
Celeste Lindell, Interval Int'l, Regional Mgr.
Fermin Cruz, Dial an Exchange, VP
Gary Prado, Redweek.com. Regional Mgr.
Craig Carty, Owner, MyResortNetwork.com
To learn more about the Florida Timeshare Owners Group, please visit
http://www.tsownersgroup.com/
---