Conservation techniques are helping many whale populations to recover, but spotting these incredible animals in the wild can still be very difficult. These simple tips can help you. Whale sighting expeditions are very popular, and can create an unforgettable vacation memory!
For whale watchers, the right destination can make all the difference.
These seven popular vacation destinations are all great places for whale sightings:
Cape Cod, Massachusetts
Los Cabos, Mexico
Maui, Hawaii

Depoe Bay, Oregon
San Diego, California
Port Townsend, Washington
Glacier Bay, Alaska

Know what you are looking for to be a successful whale watcher!
Local tour operators and tourist information centers can normally provide you with specific information about the types of whales you are likely to see on your excursion. Each whale will have different characteristics to watch for, and understanding what you are looking for is vital to being successful in spotting a whale species. Follows are four whale species that can be found in all oceans.
A century ago whales were plentiful in the world's oceans as the unrivaled kings of the seas, but humans have have a devastating impact on whale populations. The commercial whaling era killed millions of these majestic animals. Whales were used to manufacture lamp oil, lubricants, and cosmetics. Even today, whales still face many man-made dangers including pollution, the loss of food sources and habitat, climate change, ingesting plastic and trash, ship and submarine sonar, net entanglement, and even being struck by ship propellers are all common causes of whale injury and death.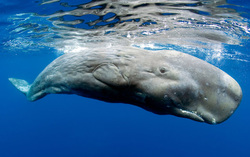 Sperm whales are generally easy to identify. Their blow holes are located near the top of the head, so spouts normally spray at an angle toward the front of the whale. They have rounded dorsal (back) fins with several bumps present behind the dorsal. They have very broad and thick flukes (tails) and the heads are huge and square.
A. Sperm Whales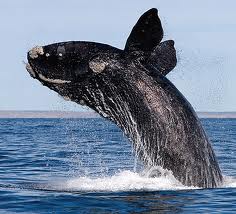 B. Right Whales

Right whales can also be easily identified because of their unique spray. These whales blow two separate spouts that form a V pattern. They have no dorsal fin so they can be difficult to spot on the water until they breach, but it is truly magnificent to see on of these whales jump from the water! Their tails are very wide and curved, and there are white bumps on their heads, so when you do see one you'll be able to recognize the species. These whales can be found on all oceans, but are very rare.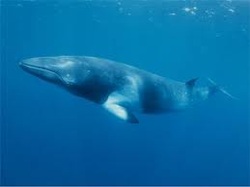 C. Fin Whales

Fins Whales spouts go very high, straight up into the air. They have a very small dorsal fin that is set far on their back near the tail, and rarely allow their flukes to breach the water. The most easily identifiable characteristic of this whale species is the pointed head.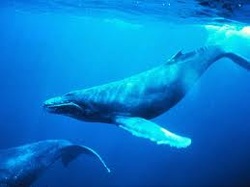 D. Humpback Whales

Humpback whales have low bushy spouts that form a small cloud over the whales back. The dorsal fin is very small, but their backs hump at a sharp angle when they make a deep dive (often referred to as a fluke dive). There are white patches and a jagged edge to their tails, and their very long flippers are also white on the underside. Humpback whales have flat heads. Their unique flippers are the most easily identifiable characteristic of this species.

Occasionally, whales will strand themselves on the shore or a beach. Scientists are still unsure why this behavior happens. Sometimes even if the whales are pushed back into the water, they may still return to shore and beach themselves again. If you find a stranded whale on the beach and it is still alive, notify the local authorities immediately. You can also try to shade and cool the whale by placing wet towels or even seaweed onto the exposed back. Be sure to keep the blow hole clear and unimpeded, and be very careful of the whale's sensitive eyes. Try to keep people away from the animal as much as possible until expert help arrives.
To learn more about whales, please visit
http://www.savethewhales.org
.
For great rates on vacation rentals to many whale watching destinations, please visit
http://vacation-times.org/vacation-rentals.html