Przewalski Horses (equus ferus przewalskii) once roamed throughout the plains and steppes of Asia and across the geographic regions now know as Germany, Ukraine, Poland, Belarus, Lithuania, Kazakhstan, Russia, Mongolia, and China. As human populations expanded, the herds were driven into very remote places until finally only a few herds remained. These horses are the only truly wild horses remaining in the world, since the wild mustangs in the Western United States are actually decended from tame horses originally brought from Europe.

Przewalski Horses were actually deemed extinct in the wild until 2008, but a few successful reintroductions caused the animals to be reclassified as critically endangered. Currently, there are only a few hundred of these horses living free and approximately 1,500 animals remaining in zoos and breeding facilities. However, all these animals carry genes from only a few founder animals- many of which can be tracked back to only 34 horses brought to Germany by an animal collector, Carl Hagenbeck. Most of the animals found in zoos today can be tracked back as descendents of this handful of horses.

These horses can breed with domestic animals, but can be identified scientifically as the Przewalski Horses have two additional chromosomes. Mitochondrial DNA studies have shown that these horses are not the ancestors of our domestic horses.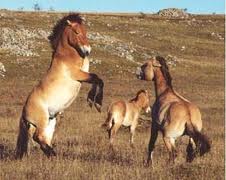 To learn more about this amazing animal and to learn ways you can help protect this critically endangered species, please visit
The Foundation for Preservation and Protection of the Przewalski Horse at
this LINK.


Przewalski Horses also show a number of other consistent differences from domestic horses in their appearance. The Przewalski mane is short and erect in most horses that are in good body condition and the forelocks are close to nonexistent. The upper part of the tail has short guard hairs, unlike domestic horses, that have long, falling manes and long guard hairs all over the tail. A dark dorsal stripe runs from the mane down the spine and dorsal side of the tail to the tail tuft and there are also commonly several dark stripes the can be found on the carpus (knee) and the tarsus (hock). Also, Przewalski's Horses shed their tail and mane hair once per year.
You can also currently find Przewalski Horses at many fine zoos including the San Diego Zoo Safari Park in San Diego, California. This zoo has a fantastic program, and has had a number of successful births for this incredibly rare horse!