Parc Soleil by Hilton Grand Vacations Club
11272 Desforges Avenue
Orlando, FL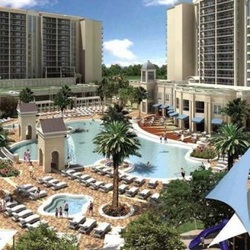 We stayed at this resort on a timeshare tour. We stayed in a one bedroom villa and it was lovely. The unit was clean, well-decorated and had a private lanai where you could sit and watch the theme park fireworks each night. We are a family of five so all three kids slept on the pull out sofa. The room was big though, so there was plenty of room. The kitchen is better than what I have at home! It was fully equipped with everything you could think of. We ate most of our meals in the room, so saved a ton of money that we normally would have spent on restaurants. There is a Super Wal-Mart just down the road, so it was easy to shop for everything we needed. We also picked up some pool toys for the kids- and even some souvenirs there (the Disney stuff there was much cheaper than the theme parks!).

The timeshare sales pitch was very slick and they definitely want to pressure you to buy on the spot! This was the only thing I did not like about the whole trip. They really tried to force us to make an impulse buy, which I just don't do, especially not to the tune of thousands of dollars! They refuse to allow you to think it over, all the deals they offer are now or never. When I came home I found out why because a quick google search showed us resales that were much cheaper. I couldn't find financing for resales though, so we still haven't decided whether or not to buy. The timeshare tour was unpleasant, but everything else was absolutely perfect!

-njcop2006@..................