(Editors Note: Wyndham Vacation Resorts Orlando at Reunion is located within the Reunion resort community, a large multi-use development that contains residential, commercial, and recreational properties. The mailing address for the timeshare portion is located at 7593 Gathering Drive, Kissimmee, Florida- but my understanding is that the individual villas are actually spread throughout the community.)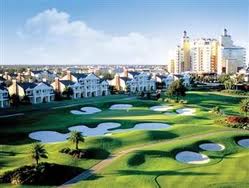 My husband and I stayed at this property in February in a three bedroom villa. It was fantastic! The master bedroom has duel walk in closets, which is something I have never seen before in a Wyndham resort. Everything was top grade such as granite countertops, stainless steel appliances, and flat screen televisions. The kitchen was nicer than what I have at home, and the beds were also very comfortable. This was probably the nicest villa we have ever enjoyed through Wyndham.

Check in is at the tall building adjacent to the golf clubhouse. This complex also has residential owners int he golf course community, so it appears that the timeshare villas are spread throughout the property. There is 24/7 shuttle service to all points on property. One thing that was strange is that you cannot pay cash for anything while you are here. Everything gets charged to your room so it is easy to overspend. You get discounts for golf, restaurants, shops, spa, etc. My husband said golf was absolutely wonderful (February golf- imagine that!). The community is about a ten to fifteen minute drive from the Disney theme parks, and maybe a little longer to Universal Studios and Sea World.


We've stayed in Orlando with Wyndham several times before, but this was the nicest ever. I think the reservation was more points than either Bonnet Creek or Star Island, but definately worth it..

-carolandbill2003@...........