editors note: This resort is located at 615 North Ocean Boulevard in Pompano Beach, Florida. It has been sold as both a weeks based timeshare ownership, and as a points based product.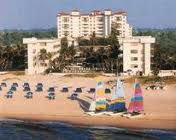 Stayed with my family and had a great time. Staff is incredibly friendly and helpful and the property is well maintained. We came during renovations, but it wasn't very noisy (they have a 3 floor shield between construction and rooms) and it was during off-season (2 weeks after the start of school). Water temperature was 85 degrees in mid September and the beach was almost empty. We had the run of the place. Resort has plenty of activities including wine tasting. There's a nice Polish gourmet on Atlantic avenue along with a grocery store nearby so you can stock up your kitchen with great food. Avoid the beach restaurants and go to out Highway 1 a mile away and you'll have plenty of great dining and shopping options.

We had a great time but giving 4 stars on the room (such as old TV's instead of flat screens but they were renovating so that may be done shortly).

Room Tip: If you have a small party (2 people), ask for the front buildings on the beach. They are efficiencies and not as luxurious as the main rooms, but if you love the beach then you'll be happy. The back hi-rise is great to get away from the noise of the tiki bar and has spacious rooms (2 queens in one and a king in the other) and a nice kitchen and living room.

peterk@....