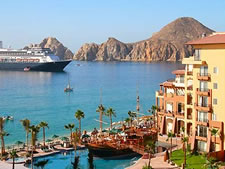 (Editors Note: Villa del Arco is located at Km. 5 Camino Viejo a San José in Cabo San Lucas, Mexico. Thank you for the gorgeous photos!)

This was our second time staying at this resort, and we look forward to returning again! Medano Beach is our favorite beach in Cabo and the resort is close to downtown. We stayed in a one bedroom suite, with a kitchen, dishwasher, washer/dryer, two bathrooms and a jacuzzi tub. The rooms are spacious and have a private patio. The staff is very friendly.
This resort offers all inclusive packages, but we don't drink much so did not purchase that program. There is a nearby Walmart where we shopped. The best thing about this resort is its location. It is far enough away from all the beach action that you don't hear any noise at night, but it is close enough that you can walk down the beach to activities, bars and restaurants. When here you can access the amenities at the sister resort Villa del Palmar. They have a small grocery there and it is within walking distance, so we went there twice to pick up small items.

We love Cabo! We've been here many times and will keep coming back. Buying at this timeshare was a great decision!

lovescabo@.....