editors note: This resort is located at 5000 Avenue of the Stars in Kissimmee, Florida. As a personal note I have stayed at this resort a few times and the 3br villas are a lockout type floorplan, which is fairly common to timeshares. The third bedroom is actually a completely separate studio villa with a mini kitchen, full bathroom, and pull out sofa. It is connected to the main villa by a private entrance. My teenage daughter and her friends LOVE this set up. However, I personally have never slept on the pull out so cannot speak for the comfort level.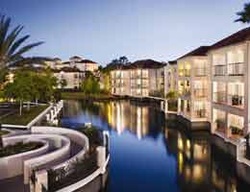 It turns out this place doesn't even have 3br villas at all. My mother booked the getaway and didn't look closely at the confirmation, but why would she need to inspect page 3 to see for sure if there is a BED in the 3rd BEDROOM? We called I.I. and explained that we had 6 people on this weeklong stay and paid for and expected 3 BEDS to sleep on. Not a pull-out couch for a week
We booked a getaway with Interval International and everything seemed great until we checked into our 3br unit at Star Island Resort. There were actually only 2 bedrooms and one sitting room with a sleepsofa. I called the front desk and was told that Interval International considers that to be a legitimate 3br. "your mistake was booking through I.I." was exactly what the night auditor said to me.

Their position was that "technically" we have 3 bedrooms. They said the confirmation "explained" there was a pull-out couch and therefore we were "told" When I asked for a supervisor, he said" all getaways are final and I have Supervisory authority, you were told that there was a couch in the bedroom and technically you got what asked for." he refused to connect me to a Supervisor and stated nobody could do anything. When I asked if there was another resort nearby, he said "we're all sold out everywhere" without even a pause to check. I believe that was a direct lie.

I went to the lobby to speak with the resort manager. I stated that I.I. is committing fraud and she said that since the rooms have a door, a closet and a pull-out couch, "legally" I.I. considers it a bedroom. She then stated that if I didn't leave the lobby, she would call security and have me removed from the property because she can't "build me a building with 3 bedrooms". I asked if she could at least have a bed put in place of the pull-out couch for the week and she immediately refused. I guess Star Island and I.I. would rather deceive people and take their money, kick them off their property and force them into uncomfortable stays. It pretty much ruined my vacation and left the rest of my family feeling like we have to make due.

_JayB@..............