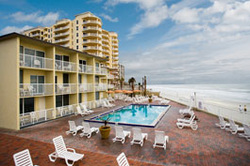 (Editor's note: Perennial Vacation Club at Daytona is located at 2525 S Atlantic Avenue, Daytona Beach Shores, Florida. The Perennial Vacation Club system is a non deed timeshare program, where members do not own a particular resort but rather have access to a particular unit size at any Perennial affiliate.)



Just spent a few days in a one bedroom villa at this resort, which is located at 2525 South Atlantic Avenue in Daytona Beach Shores. The villa was very large for a one bedroom, and all the furniture and decor appeared to be in great condition. The kitchen was fully equipped, and there were all tile floors which made sweeping up the beach sand very easy. This is a very small resort with a reasonably sized pool and direct access to a quiet stretch of beach. The property is not far from the Ponce de Leon Inlet Lighthouse, and is just a few miles from the Ocean Center and the Shoppes at the Ocean Walk, so it is convenient to all the local attractions. I was also very impressed with the staff. If you enjoy a small private resort, this facility would be perfect for your family!

-Susan.arnone@..........