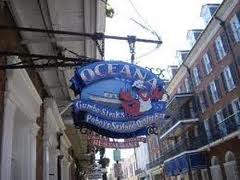 (Editors Note- The restaurant is located at 739 Conti in New Orleans, Louisiana)

Spent a weekend in New Orleans at Harrahs and wanted to share my favorite restaurant. The Oceana Grill is located at the corner of Conti and Bourbon Street, so is easy to find if you are the French Quarter. The place is popular with both locals and tourists, and you will often find famous celebrities dining there. The menu is varied and everything I have ever tried is absolutely delicious. My favorites dishes are the etoufee and the eggplant napoleon. You also have to try the pecan pie and bread pudding.

-larryf@..................