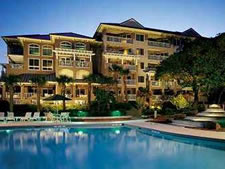 (Editors note: Marriott Grand Ocean is located at 1044 William Hilton Parkway, Hilton Head, South Carolina. Also, it is worth mentioning that I have stayed at many timeshare resorts and have never been "required" to attend a sales presentation. The only time a timeshare tour would be mandatory is when the consumer accepts a discounted and developer subsidized stay in exchange for the promise of attending a sales presentation.)

We booked this resort for a few nights in early October through an online agency, not realizing this was even a timeshare. Much to our surprise we realized what the property was when we arrived and were offered a timeshare tour! We worried that there was no cleaning service and we would be responsible for washing and cleaning everything before we left. We talked to the manager who was very helpful and offered us a daily cleaning at no charge. The rental was described as Oceanside but we could not see the ocean from the room. These problems were the fault of the website, not the resort but I thought they should be mentioned here.

The room was incredible with two large bedrooms and a spacious living room and kitchen. The grounds were beautiful with swings and rocking chairs all over the property. There were always activities available. I am not a fan of time shares but if I were, this would be one I would return to again. The resort was beautiful, but time shares have a bad reputation and I was sure we would be required to spend hours with a salesperson. We kept saying no, and everyone was very polite so we actually did not have any trouble like people talk about.

texasromans@.........