(Editors Note: Disney's Villas at the Wilderness Lodge are located at 801 Timberline Drive in Lake Buena Vista, Florida)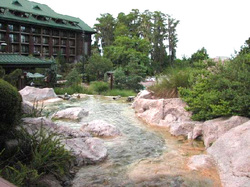 We are Disney Vacation Club owners. We are retired and normally bring our grandkids with us on our trips. This was our second trip. Check in was very easy. Once you check in you can call housekeeping and order additional cleaning service. You already get a towel change and trash service for a weekly stay, but you can order additional additional towel changes or a full mid-week cleaning for a $65. fee.

We stayed in a two bedroom villa. The kitchen is fully equipped with everything you could ask for. We do not cook use the fridge and microwave for snacks and drinks. The rooms are a little small, but still very comfortable. There were two balconies. The beds were extremely comfortable. Many resorts have beds that are far too soft for my taste, but I really like the ones at Disney. The staff is wonderful. Disney's customer service is the best there is and the main reason we bought here.

The grounds are what you would expect from Disney. Manicured landscaping that is beautiful. Many bushes are shaped to look like Disney characters and various animals. The main lobby is breathtaking. My wife and I spent a few evenings there in the rocking chairs enjoying the fireplaces and the conversation. You can spend an entire day at the pools and walking the grounds. There are two pools. There is a small pool by the Villas and the main pool which has a water slide for the kids. The grandkids had activities every day we weren't at the theme parks.

We drove, but you can take a bus or boats to other places within the Disney resort if you don't bring your car. We like to get away for meals. Also, there is a gigantic McDonalds nearby which has a huge multi story play area for the kids. There are also many dinner theatres in Orlando. We did a Pirates one which the kids liked. Disney in Orlando is just great place to stay!

-FDell@......