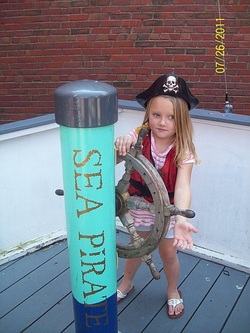 I just spent this afternoon in the Children's Museum and Theatre located at 142 Free Street in Portland, Maine. I took my my five year old daughter and we had a great time. All the exhibits are geared toward young children (I would say no older than 8 or they'll be bored stiff) and everything is hands on for the kids to explore.

When you walk into the lobby you'll be greeted by the front desk. Admission was $9.00 for everyone in the party older than 18 months. You immediately walk into the first floor exhibits. My first impression was this museum would make a really cool daycare! We were immediately immersed in a room dedicated to small plastic balls and various contraptions designed to manipulate this most basic toy. There were air tubes (like you see at the bank drive through), ramps, catapults, and other means to move a ball from one place to another. Jessie had a blast! It was simple and silly fun, but was both challenging enough to keep her attention and yet basic in nature so that even very small children could be involved.
The next area on the first floor was the "Big Gallery". This was a little less fun for me just because it was difficult keeping track of my little one. Many of the play areas are designed just for children, so it's easy for children to move quickly from exhibit to exhibit while the adults are banging into each other (and trying not to step on other children) just maneuvering through the walkways. This area contained a large fire truck complete with firefighter costumes, a mock automobile service garage, lobster boat, grocery store, farm, and a veterinarian set up. There was also a large tree house and a small toddler play area that was located in a protected area in the center of the room. This is a pretenders paradise, with so much imaginative play that it makes you a bit dizzy! Next to this area was a section with information and exhibits on whales. There was a giant whale ballon suspended from the ceiling, and information about Orcas and other whale species.
Outside this floor is a section of the museum called the shipyard and garden. This is a small area with various gardening areas, a small greenhouse, a small schooner made up as a pirate ship, and a large assortment of metal percussion instruments. There was a large gong (only one adult understood my weak Gong Show reference), several drumming areas, and numerous xylophonish creations made from wood, steel pipes, and other materials. We probably spent more time here than anywhere else in the museum. I may actually have enjoyed the "instruments" more than she did, but I have to admit that she ruled the pirate ship!
The second floor of the museum was much calmer. This area seemed to have a focus on nature except for a exhibit of a space shuttle mock up. There is a nice interactive exhibit about logging and sawmills, with information promoting renewable forestry practices. There is also a water exhibit of a running stream with various plastic critters moving through the water. A large climbing wall is the sole focus of one corner of the room. There is also a small room off to the side with an exhibit done up like a ranger station. There are several stuffed animals including a beaver and various local birds. There is also a large and active bee hive enclosed in glass. The bees have a glass tube which gives them access to and from the building. It was amazing to see these industrious insects leaving the nest in a line, and returning when they had gathered their burden of pollen. If humans demonstrated even a small amount of this organization or dedication, we could perform miracles!
Perhaps my daughters favorite exhibit on this floor was the touch tank. This is a large aquarium filled with hermit crabs, starfish, and other crustaceans. Children are encouraged to reach inside and feel the animals. We spent quite a bit of time here. Next to this area is the mock up of a space station. Children can enter the Star Lab and look at various exhibits inside the shuttle. I didn't enter this area so I can't provide you with any specifics about these stations. There were a few television monitors that showed launches and space views.
The final area on this floor was an attempt to provide information about other countries around the world. There is a large globe which is supported by air pressure, and can be turned by hand. (It's very similar to the stone globes outside of Ripley's attractions which can be rotated by slight pressure). This was interesting for me, but not to the kid. Needless to say we zoomed through this area.
The third floor is the administrative offices and Camera Obscura. This is a unique optics exhibit that is only open at specific show times. It basically creates a mechanical eye using light, mirrors, and a dark windowless room. Click
HERE
for a more in depth explanation of this fascinating invention.
The final experience at the Childrens Museum was the basement or lower level which contains the theatre. They have live performances of children's stories, and also have a large assortment of dress up materials for children to play with when there are no actors on stage.
If you have young children and are close to Portland, this attraction is a fun and reasonably priced outing that your small kids will really enjoy!
- Rich M.