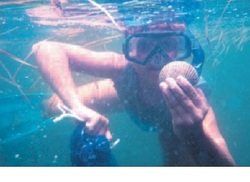 Found a private charter captain who operates a 24-foot pontoon boat and offers scalloping expeditions in the Gulf of Mexico during the summer, as well as fishing and nature tours year round. Captain Della offers a relaxing trip down the Crystal River to the seagrass beds at the coast near the mouth of the river. You don some snorkeling gear- and voila- you can start catching scallops!
The most amazing part of the trip is watching these shells swim away from you!
As you search through the seagrass, these little shellfish (they are the logo for Shell gasoline) become agitated and attempt to swim away by flapping and pumping water through valves. My daughter found this absolutely hilarious!
Bay scallops are small, but extremely tasty! Within an hour we had collected a nice haul, which we cooked and ate that night. The entire trip took several hours, but was a fantastic way to spend the day! Della was fantastic!
You can find information to reach Della at her Myspace page by clicking HERE.
If you have never been scalloping before, there is a great free information pamphlet put out by Citrus County and the University of Florida
that can be downloaded by clicking
HERE
!.
Della also operates a large airboat and offers both airboat ride nature tours as well as gator hunting expeditions in season. If you really want to experience the natural beauty and excitement of
Florida,
-Rich M