To access Fort Sumter, you must board a Ferry at Liberty Square in downtown Charleston. The dock is located on Concord Street, next to the South Carolina Aquarium. The Visitor Education Center is free, and is a state of the art facility of the National Park Service that features educational exhibits that explain the importance and historical significance of Fort Sumter during the American Civil War.

There is also a second launching point located at Patriots Point Naval and Maritime Museum in Mount Pleasant- which is the home to the aircraft carrier USS Yorktown and also features exhibits dedicated to the Congressional Medal of Honor Society which tell the stories of brave American servicemen who have received this distinguished commendation.

Prices to ride the ferry and access the island are reasonable. $17,00 for adults and $10.00 for children.

I found the excursion to be educational and very interesting, but I think my youngest enjoyed the ferry ride much more than the fort itself.

Rich M-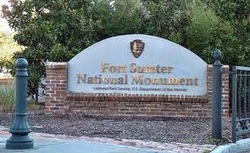 A brief history of Fort Sumter:
South Carolina had seceded from the Union, yet Union soldiers still occupied Fort Sumter at the entrance to Charleston Harbor. The South demanded that the Northern troops vacate the fort. The North refused. On April 12, 1861- Confederate forces fired on the fort. This bombardment continued for two days, until the Union troops stationed at the Fort finally surrendered.

Confederate troops held the fort until February 17, 1865- surviving one of the longest sieges in history. The importance of the fort protecting Charleston Harbor was vital to both sides, and thus Fort Sumter became one of the most highly contested locations of the Civil War. For almost two years, Northern troops fired more than 46,000 artillery shells at the complex. The weight of these shells is estimated at more than seven million pounds of metal alone!