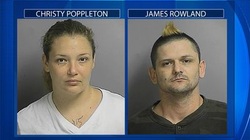 A new
report in the Orlando Sentinel
claims that a Spinnaker Resorts telemarketer and her boyfriend have been arrested and charged with two counts of fraudulent use of a credit card, according to Osceola County sheriff's investigators. Osceola detectives say dozens of timeshare customers may have been victimized by a call center telemarketer who used their credit card numbers for commissary deposits to county jail inmates, including her boyfriend.
According to an affidavit, corrections officials were tipped off to the fraud anonymously, and soon discovered that several inmates had recieved deposits from a "Bob Smith," from credit cards that didn't match that name.
Detectives later reviewed a phone call from inmate James Robert Rowland, 38, to his girlfriend, 32-year-old Christy Meleah Poppleton, in which he directed her to deposit money into his and another inmate's accounts, the affidavit states.
The fellow inmate confirmed Rowland approached him about having Poppleton make a deposit, the affidavit states, explaining he got to use $12 of every $100 Poppleton deposited in his account, and Rowland got the rest.
Several cardholders associated with the "Bob Smith" deposits confirmed they were fraudulent, and told detectives they had recently made payments to Spinnaker Resorts, where Poppleton worked, the affidavit says.
The couple face charges of fraudulent credit card use, and additional charges are expected. Records show Rowland was sentenced to eight years in prison on burglary charges last month, as the fraud case was developing. According to the affidavit, Poppleton was on probation for giving false information to a pawn broker before her arrest, and her probation officer confirmed it was Poppleton's voice recorded on the jail phone call with Rowland.
Poppleton's LinkedIn
profile show her to also be a past employee of both Summer Bay Orlando and Starwood Vacation Ownership.